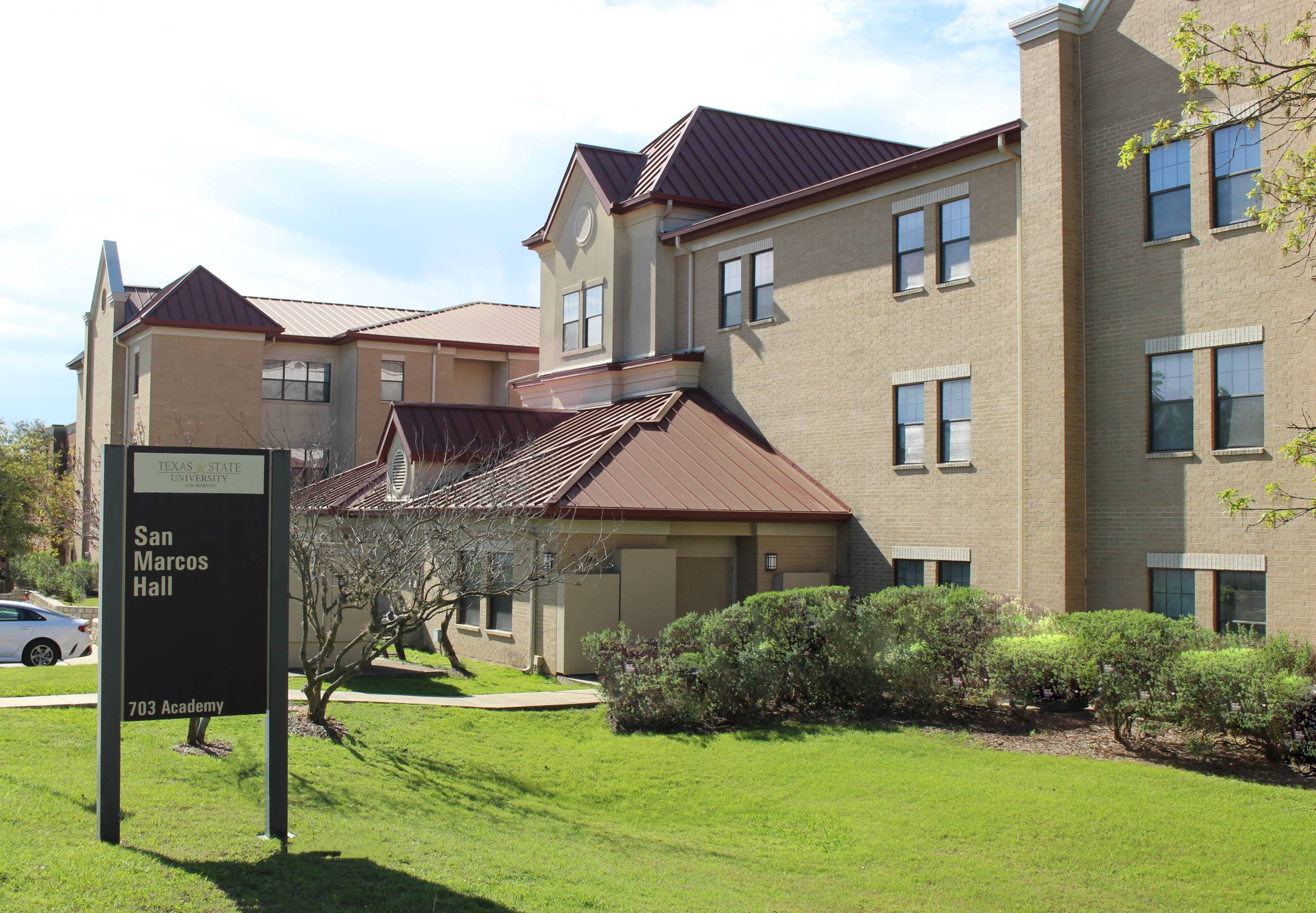 San Marcos Hall, located on the western part of campus, offers private bedroom and double or triple occupancy suite-style rooms. Two to five students are assigned per suite.
San Marcos Hall offers a shared bathroom contained within the suite and includes a separate common area.
703 Academy St.
San Marcos, TX 78666
512.245.3369
417 Beds
Single Gender by Suite
Furnished Common Area
In-Room Kitchenette
No Elevator Access
360° Videos
Click and drag your cursor on the image to move around the room.
Features
Single Bedroom: Full-size Bed
Double Bedroom: 80" XL Twin Bed
Desk and Desk Chair
Dresser
Couch, Chair, Tables, and TV Stand
Sink, Cupboard, and Cabinets
Loftable XL Twin Beds
Pool Table
Lounge on Each Floor
Full Community Kitchen
WiFi Internet Connection in Room
In-Suite Common Area
Theatre Room
Laundry Room
Kitchenette in Suite
Carpeted Bedroom
7 Shelves in Common Area
Single Bedroom Size:
9' x 9'
Double Bedroom Size:
15' x 16'
Triple Bedroom Size:
15' x 16'
Common Area Size:
11' x 13'
Window Size:
40" x 55"
San Marcos Hall Floor Plans

Measurements
Bed (Full Size)
L: 76"
W: 52"
D: 6"
Storage Under Bed: 17"

Closet
H: 79"
W: 65"
D: 28"
Bed (XL Twin)
L: 80"
W: 35"
D: 6"
Loftable at Highest: 59"
Loftable at Lowest: 29"
Outlets in Room
3 Power Outlets
1 Phone Port
1 Ethernet Port
Dresser
3 Drawers
H: 32"
W: 29.5"
D: 24"

Bathroom
2 Vanities
1 Toilet
1 Shower with Curtain
Desk
H: 32"
W: 42"
D: 24"


Common Area
L: 156"
W: 136"
147 sq. ft.
6 Power Outlets
1 Cable Port
1 Ethernet Port