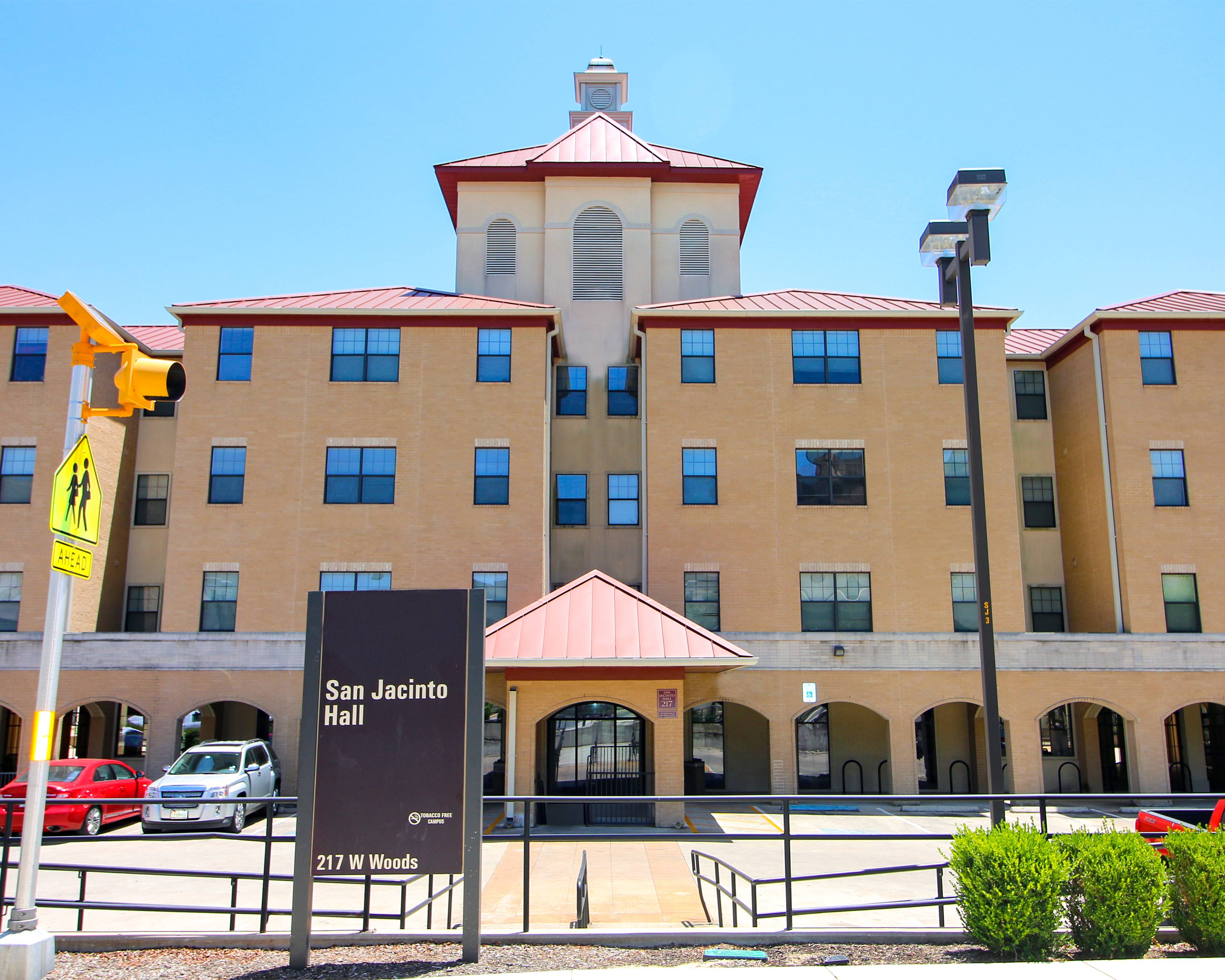 San Jacinto Hall, located on the central part of the campus, offers private bedroom suite style rooms.
San Jacinto Hall is a Super Suite Hall, with a shared bathroom contained within the suite, and includes a separate common area.
217 W. Woods St.
San Marcos, TX 78666
512.245.7676
469 Beds
Single Gender by Suite
Furnished Common Area
Private Bedrooms
Elevator Access
360° Videos
Click and drag your cursor on the image to move around the room.
Please note that furniture for Fall 2023 has been updated.
Please check measurements and photos for our most up to date furniture.
Image Gallery
Please note that photos 2 and 3 represent our most up to date furniture in San Jacinto. Measurements can be found below.
Updates include: Twin XL bed, two dressers, a writing surface, a lockable pedestal and the removal of the book case.
Features
80" Twin XL Bed
Desk and Desk Chair
Dressers
Loftable Bed
Couch, Chair, Table, and TV Stand
Pool and Foosball Tables
Lounge on Each Floor
Full Community Kitchen
WiFi Internet Connection in Room
In-Suite Common Area
Theatre Room
Elevator Access
Movable Furniture
Carpeted Bedroom
Laundry on Each Floor
Furniture Measurements have been updated as of July 2023
Measurements
Bed
L: 80"
W: 35"
D: 7"
Loftable at Highest: 60"
Loftable at Lowest: 27"
Closet
H: 80"
W: 66"
D: 28"
From Hanging Rod to Floor: 68"

Please note that some closets feature sliding glass doors, others feature a rod for curtains
Dresser
H: 20"
W: 29.5"
D: 24"


Common Area
(4 Bedrooms)
L: 137"
W: 137"
Window: H: 57", W: 72"
From Window to Floor: 37"
Bathroom
2 Vanities
1 Toilet
1 Shower with Curtain

Common Area
(2 Bedrooms)
L: 157"
W: 137"
No Window
Outlets in Rooms
4 Power Outlets
1 Cable Port
1 Phone Port
1 Ethernet Port
Lockable Pedestal
H: 20"
W: 17"
D: 24"

Outlets in Common Area
8 Power Outlets
1 Cable Port