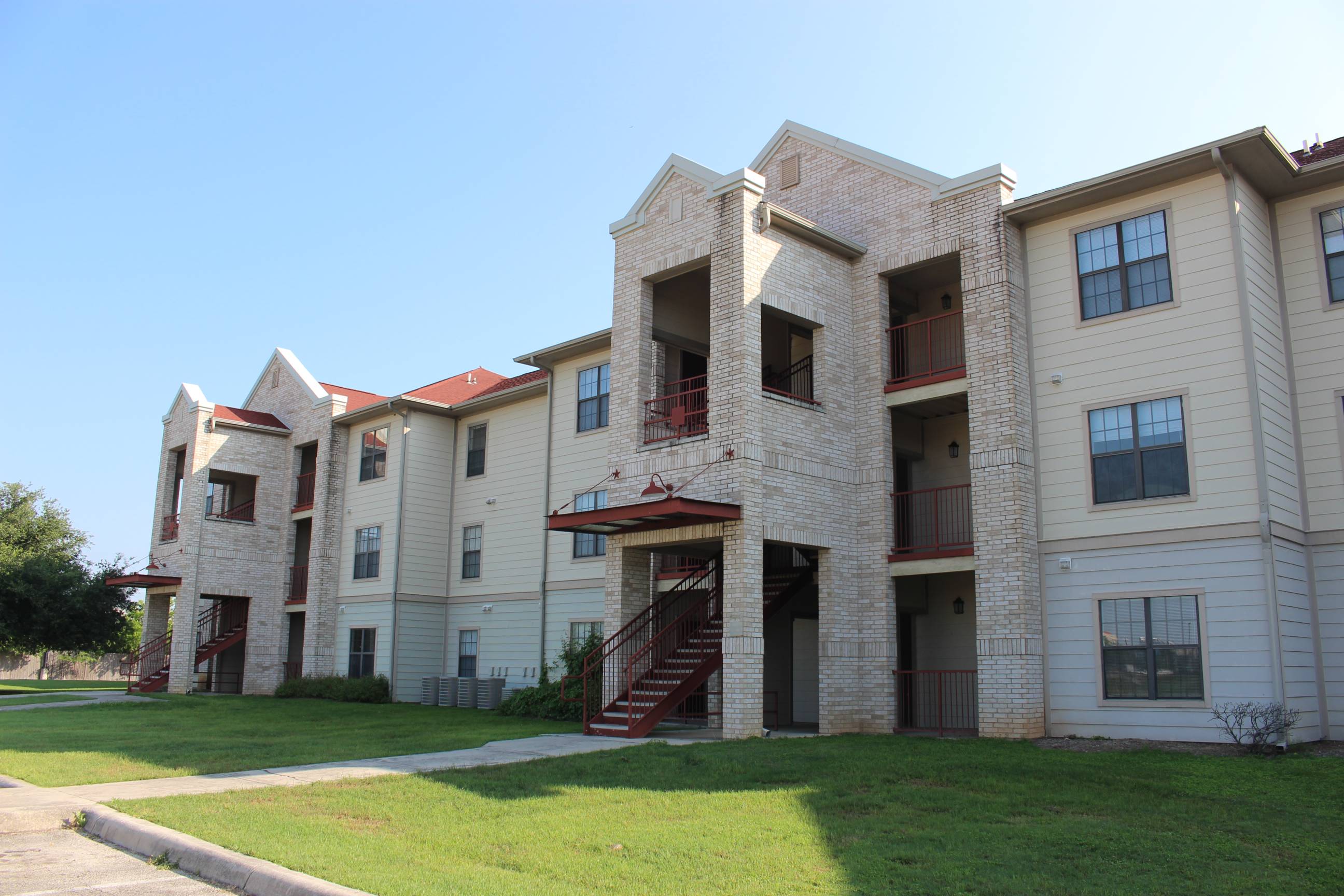 Bobcat Village is located across from Bobcat Stadium, conveniently along the Bobcat bus route. Each bedroom has a full-size bed with an attached bathroom. All bed spaces are contracted individually.
Any student who is not 18 years of age by move-in must have their parent or legal guardian send housing an email (from the email on file) approving their student living at Bobcat Village.
1301 Aquarena Springs Dr.
San Marcos, TX 78666
512.245.1440
One Bedroom: 508 sq. ft.
Two Bedrooms: 745 sq. ft.
Single Gender by Apartment
Fully Furnished
Washer and Dryer in Unit
No Elevator Access
360° Videos
Click and drag your cursor on the image to move around the room.
Single Kitchen & Living Room
Features
Full-size Bed
Sofa and Armchair
Entertainment Unit
Coffee Table and End Table
Desk and Chest of Drawers
2 Bedroom: Two Barstools
1 Bedroom: 2 Chairs and Small Kitchen Table
Washer and Dryer in Unit
Swimming Pool
Sand Volleyball Court
Private Fitness Center
Full-size Fridge
On-Site Management
Alarm System
Patio
Fully Furnished
2 Bedroom Window Size:
35" x 60"
2 Bedroom Size:
10' x 13' 11.375"
1 Bedroom Window Size:
47" x 48"
1 Bedroom Size:
10 x 13' 5.2"
Living Room Window Size:
59" x 64"
Patio Door (1 Bedroom Only):
23" x 72"
Entertainment Unit:
H 30.25" x W 31.25" x D 22"
Bobcat Village Floor Plans
Measurements
Outlets
6 Power Outlets
1 Phone Port
1 Ethernet Port
Dresser
4 Drawers
H: 38"
W: 33"
D: 17"
Bathroom
1 Vanity
1 Countertop
1 Toilet
1 Shower
Desk
H: 30"
W: 26"
D: 24"

Closet
H: 95"
W: 60"
D: 60"
From Hanging Rod to Floor: 68"