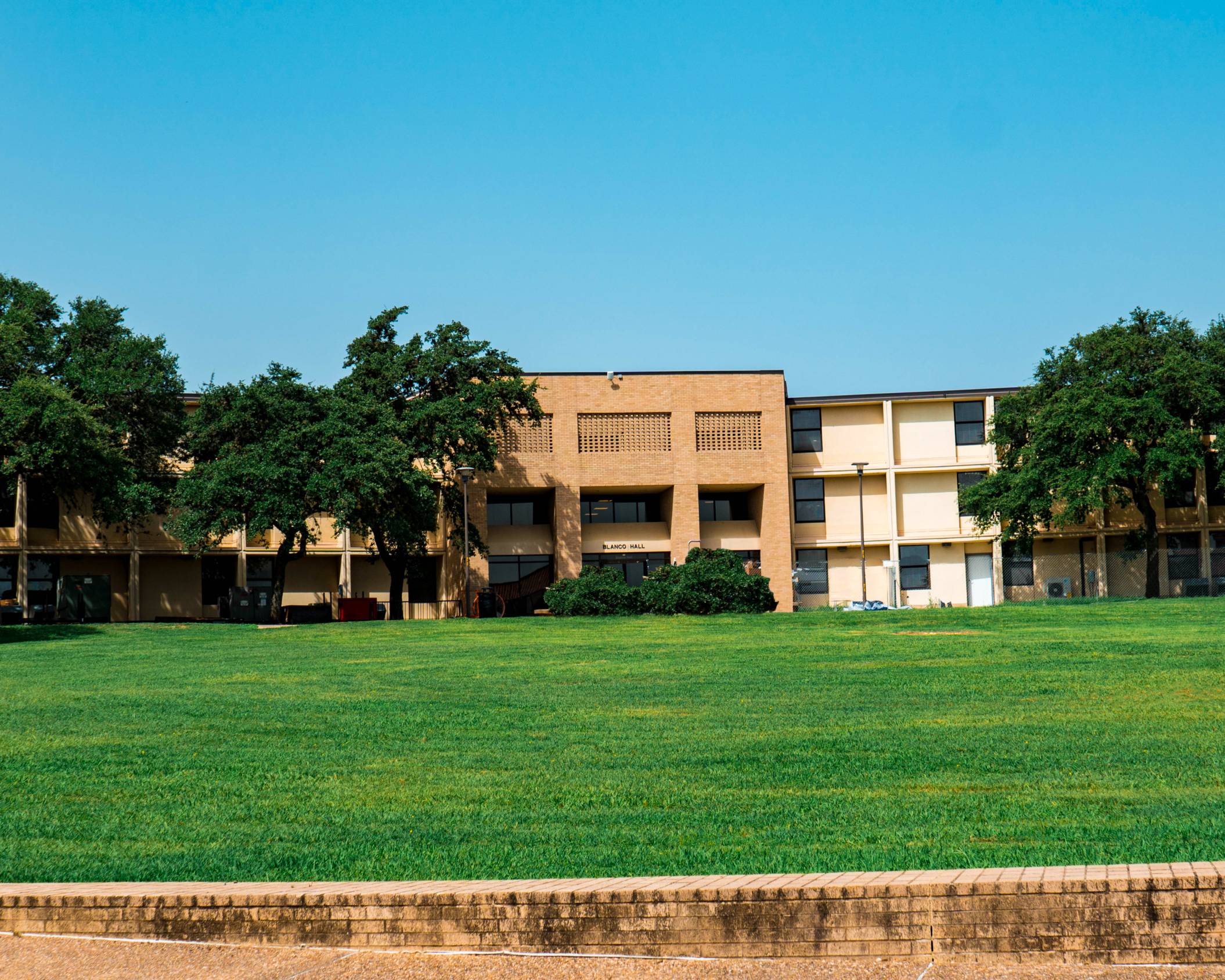 Blanco Hall, located on west campus, is a residence hall where three students share a bathroom within the room.
A portion of Blanco Hall is dedicated to the Black & Latina/o/x Studies Living-Learning Community.
701 Moore St.
San Marcos, TX 78666
512.245.2055
594 Beds
Single Gender by Suite
5 Floors
Parking Garage
Shared Suite Bathroom
Elevator Access
360° Videos
Click and drag your cursor on the image to move around the room.
Image Gallery
The A wing will feature loftable style beds with brown bed frames below. Please note that loft heights for A B & C wings will be the same. Additional lofts will be available in each residents closet space should they choose to raise the bed.
B & C wings will feature black bed frames and dark brown furniture featured below.
Features
80" XL Twin Bed - B & C Wings, 76" Twin Bed - A Wing
Desk and Desk Chair
Two Dressers
Lockable Pedestal
Loftable Beds
Pool and Ping-Pong Tables
Lobby and Study Lounge
Full Community Kitchen
WiFi Internet Connection in Room
Elevator Access
Temperature Controls
Movable Furniture
Laundry on 1st Floor & 2nd Floor
Measurements
Bed
L: 80"
W: 35"
D: 6"
Loftable at Highest: 59"
Loftable at Lowest: 29"
Lockable Pedestal
H: 20"
W: 18"
D: 24"
Two Dressers
Each has 2 drawers
H: 20"
W: 30"
D: 24"

Bathroom
1 Vanity
1 Toilet
1 Shower with Curtain
Desk
H: 30"
W: 42"
D: 24"


Outlets
3 Power Outlets
2 Phone Ports
2 Ethernet Ports
Closet
H: 83"
W: 52"
D: 22"